How to get free remarketing, and list building using Instagram & Facebook Ads?
If you're running an online store, or are a marketer working on an e-commerce client's campaign, then you know the importance of remarketing. It's one of the most effective ways to keep your brand in front of potential customers who have already expressed interest in what you're selling. And it's especially important during the holiday season when competition for attention is highest.
One of the best ways to get started with remarketing is to use Facebook and Instagram Ads. In this post, we'll show you how to set up your campaigns so that you can start re-engaging your new customers immediately. We'll also give you a few tips on how to build your email list using Facebook and Instagram Ads. Let's get started!
1. The classic approach of remarketing using IG & FB Ads.
Remarketing with Facebook and Instagram Ads is a classic approach that involves a paid strategy sending Ads traffic to your website or landing page. With the latest Apple iOS privacy changes are less effective, this relies solely on the paid approach of remarketing/retargeting by paying more to Facebook to show the person again your Ad creative.
This approach can be supplemented by offering free lead magnets on the website, making it more enticing for visitors to opt in for an email list. With this combination, businesses can try to maximize their efforts with prospects that had visited their sites before.
2. Current problems with cookie/pixel based remarketing/retargeting.
Remarketing using cookie/pixel-based campaigns has been a popular and effective method for businesses who want to target their advertisements to potential customers. However, recent privacy changes on the iOS platform have significantly decreased the effectiveness of this approach.
This is because browsers like Safari, Firefox, and Brave are now imposing limitations that reduce the chances of conversions through these paid remarketing campaigns. Businesses must, therefore, look for alternative ways to generate conversions by taking advantage of creative strategies such as email marketing that are less prone to these kinds of alterations.
3. New approach of using free remarketing and list building using IG & FB Ads and DM funnels.
The basic change is that we do not send Ads traffic to your website or landing page. We are using 100% Facebook (Meta) approved DM automation / DM funnels instead.
With the traditional approach of remarketing through ads, list building, and revenue generation become costly. However, with a new approach of using free remarketing and list building using IG & FB Ads and DM funnels, this cost is significantly reduced.
By sending traffic to automated DMs instead of landing pages or websites, brands can leverage clickable carousels, discount code distribution, and opt-in notifications on Facebook Messenger Recurring Notifications to incentivize more engagement from customers. Remarketing and list-building email, and SMS can now be done quickly, and easily!
4. An example of simple DM funnel.
I will show you an example of a simple DM funnel started via IG or FB Ads. This DM funnel is doing a discount code distribution and uses free remarketing.
- In the first step of DM automation (a Chatbot) sends to the potential client a discount code and the link to the website.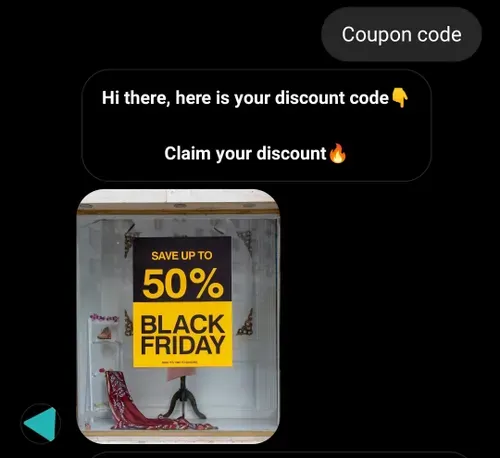 - But this is not all, now the Chatbot will wait for 1h and check if the potential client clicked the link to the website.
If they did not click the link Chatbot will send a reminder after 1h like the one below.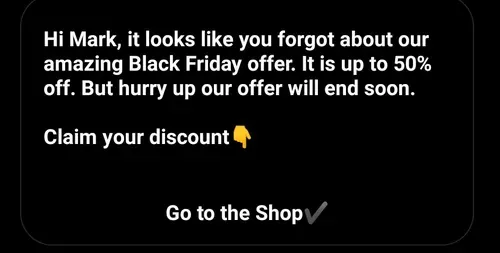 If the potential client clicked now the link to the website the Chatbot will wait for 1h and incentivize the user to opt-in for email/SMS/ or Messenger Recurring notifications.
Like this below.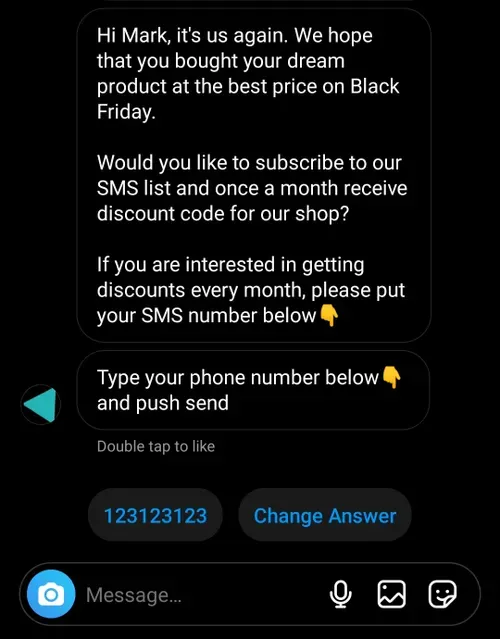 Now we have their SMS number and we can once a month send them very cheap for the cost of SMS, text about your newest promotion. Alternatively, you can ask for email opt-in or opt-in for Messenger Recurring Notifications.
But let's assume that the potential client did not click the link to the website after the first reminder. Now Chatbot will wait for 20 hours and will send the last free remarketing message to the user.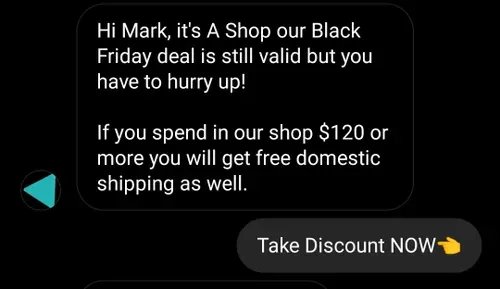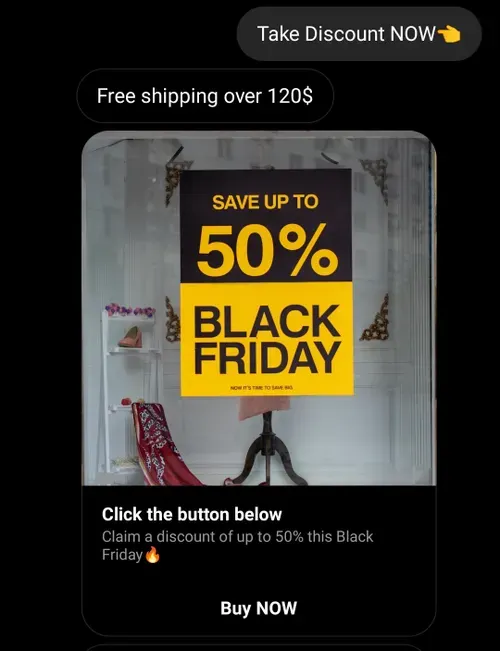 After the client clicks the link Chatbot will wait and after 1h send a message about SMS sign-up.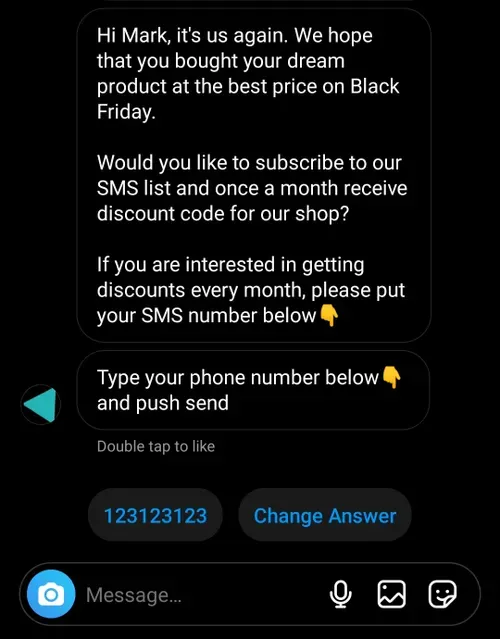 Let's compare the results!
From one paid click from Instagram or Facebook Ads, you generate not one chance of closing this deal.
But you have generated even 3 chances! of closing the deal + a free option! of opt-in this person to SMS/email/or Messenger Recurring notifications.
5. Advantages of list building.
Remarketing through list building has several advantages. Our new approach allows you to easily build a list of emails, SMS, and Recurring Notifications via Messenger. Through our software integration with your email marketing platform, you can upload email addresses to platforms like Mailchimp, Klaviyo, Kartra, and more within minutes!
The same is true for SMS campaigns and opt-in confirmations which can be sent directly from the software thanks to our integration with Twilio.
Another great feature of Recurring Notifications is the ability to send daily/weekly/or monthly newsletters directly to their potential clients' Messenger inboxes - how cool is that? Lastly, the user can subscribe via Messenger in just two clicks, making the process very straightforward and simple. With all these features, list building has never been easier!
6. Another way of free remarketing.
Using your virtual assistants or customer service staff to check Instagram and Facebook DMs is an excellent way of remarketing for free. After a potential client has received the automatic message from the Chatbot within the first 24 hours, VAs or customer service representatives can follow up after 48 hours using Facebook Business Suite.
They can ask prospects if they experienced any difficulties with claiming the discount offer, and even offer them a free bonus. This provides another opportunity to engage with potential customers and determine issues they may face while trying to finalize a deal on your website - all without retargeting Ads cost.
7. Another paid but cost-effective way of remarketing.
Another cost-effective way to remarket is using Facebook "sponsored messages". This advertising strategy specifically focuses on people who have interacted with your business within the last year and had opened DM with your profile.
With this approach, customers will receive direct messages in their inboxes regarding promotions or products related to your company. Although it's limited to certain markets, such as the US, it is an inexpensive and effective way to reach those familiar with your brand.
Conclusion:
If you're looking for more effective ways to get free remarketing and list building using Instagram & Facebook Ads, then this blog post is for you. We've shared the classic approach of remarketing as well as the current problems with cookie/pixel based remarketing.
Additionally, we've provided a new approach of using free remarketing and list building using IG & FB Ads and DM funnels. This method is not only more effective but also less costly.
If you want to learn more about how to implement this strategy in your business, then book a free 20-minute consultation call with us today.
Automations Digital
Subscribe to our newsletter